Quick and easy
Using MotorTrade UK is quick and easy, so you can bid and buy the right stock whenever and wherever you are. So, how exactly does the platform work?
Get started
The platform is very simple, you log in and start browsing auctions immediately, which are available 24/7.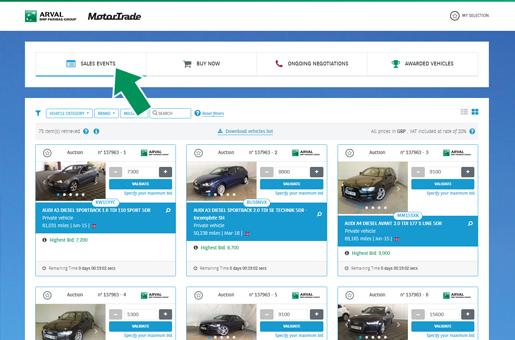 There are 3 types of auction available:
Open Auction
Bid in increments of £100 or set your maximum bid and let the platform bid on your behalf. The highest bidder wins.
Blind Auction
Check the starting bid and place your own bid. The highest bidder wins.
Buy it now
This is exactly as it sounds. A fixed price and no need to bid – simply click buy.
Final Steps
Finalising the purchase
Once you've won an open or blind auction, or clicked buy in a 'buy it now' auction, you'll just need to arrange payment and confirm your transport options. It's that simple.
Spread the cost
Our stock funding solution makes this easy. You've found the right vehicle on MotorTrade, using our stock funding solution we can help spread the full cost (inclusive of fees) over a period of up to 120 days. Get in touch below to find out more.